Serving Our Community &
Encouraging Growth
With over 85 years experience in the insurance industry, we still have a passion for finding you the best coverage .
We take pride to help you protect your assets. We believe that every client has unique needs. That is why we recommend reaching out to us for your unique quote. We believe in providing quality coverage, great customer service and building long term relationships with our clients.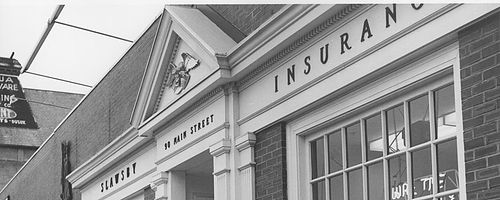 Slawsby Insurance Agency was founded by Archie M. Slawsby in 1935. It was a one-man operation with the office located in downtown Nashua, New Hampshire.
In the 1960s, the Slawsby Insurance Agency was one of the first agencies in the country to automate workflows by mainframe computer.
In 1983, Jon C. Barton acquired majority control of the agency. He formed Minuteman Services, Inc., which serves as the holding company for the member agencies of the Minuteman Group. During the 1980s and 1990s, the agency acquired several books of business and competing agencies.

In 2004, Slawsby Insurance Agency, Inc. became one of the first insurance agencies in NH to go entirely paperless. Shortly thereafter, we began delivering policies via email, saving trees as well as money.
In 2018, Karen Edgerton acquired the agency. Her vision matches those of her predecessors:
Consultative and expedient service delivered in a format which best meets the needs of our client
Staying in touch with our clients throughout the year and not just at renewal time
Being there for our clients at the time of a loss, when we are most needed, and mitigating losses through sound loss control practices
Though the world has changed a great deal since 1935, and technology has dramatically altered the way we do business, some things never change. Slawsby Insurance Agency & the Minuteman Group's old-fashioned, values-based service are still the backbone of our company culture. Just like the revolutionary minutemen of old, we deliver what we promise: honest value, faithful fast service, and a fierce loyalty to those we are privileged to protect. 
At Slawsby, we constantly strive to go above & beyond, offering the most useful services and coverage. We even have a licensed Notary on staff that is available to notarize any documents our clients &/or the public needs signed for free *by appointment only. Click Here to schedule your complimentary Notary appointment.  We are a Trusted Choice for insurance products and services throughout New England.
Meet our
Professional Team
Our agents are professional, knowledgeable & attentive. They get to know you to understand your needs, develop a cohesive plan and take the time to customize a quote just for you.
Slawsby Insurance has been managing our professional and personal insurance coverages and expenses since 1992. Tom and the staff are a highly knowledgeable and efficient team. I have recommended Slawsby to many business colleagues over the years as I believe in sharing good things with my friends. We have saved a lot of money working with them!
Excellent assistance and follow thru in getting set-up with them, particularly in the do-over that was needed for our home and business.